Meet the BassWhacker Guide Service Crew
Jonathan Henry (Owner)
So a little about me as a fisherman and outdoorsman. I started bass fishing as soon as I was old enough to hold a rod, and was in the winning boat of a tournament on Boone Lake in East Tennessee at the age of 7, and yes I caught 2 of our fish! I was lucky enough to have a Dad that tournament fished, along with several other members of the family. My dad dropped most of his normal tournament partners by the time I was 10 years old to get me out and on the water more. I joined my first federation sanctioned bass club at the age of 14, and before I could drive, was the youngest angler that large club ever qualified to send to the Tennessee State Tournament at the age of 15. As of now I am 31 years old, and to the best of my record (I'm sure alot is missing) I have won over 200 Bass Tournaments of all sizes, and 6 points titles in various team trails and solo events. I also enjoy archery hunting whitetails in the mid-west, and waterfowling here on the Tennessee River.
I started my BassWhacker Guide Service in the Spring of 2011, in an effort to teach skills I have learned, familiarize strangers to the lake, and to keep myself busy and sharp between tournaments. I have also worked in the saltwater charter business in Homer, Alaska during past summers.
Some of my strongest skills are in electronics and shallow water target fishing. If you are looking to learn to better use your Humminbird or Lowrance units, I am very trained and ready to help. I am well schooled with all of the new side and down scans and am very capable of helping you learn more about that high dollar graph that so far you have only used to tell you how deep it is. Also if you want to improve your pitching, flipping or short target casting, I am ready to just teach all day and make you a better fisherman.
The main thing I want all of my prospective clients to know is, I want you to have the day you want to have. If that is hard core tournament run and gun fishing for 12 straight hours, I am more than ready for that. If you want to take your kid out and bream fish for 2 hours then ride to Mud Creek and eat BBQ, then I am ready for that as well. What I am trying to say is it is your day you are paying for, You let me know what you want to get out of it, and I will try my very best to make that happen!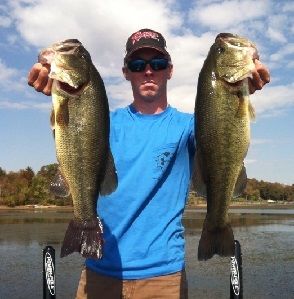 Cody Frazier
I live in Chattanooga, TN and am blessed to have Lake Chickamauga in my back yard. As far back as I can remember, hunting and fishing have been a way of life. I was introduced to fishing by my grandfather and often think back to the days when he would take me fishing off the dock and eventually to full day trips with him in the boat. While all I have left are memories, I know my grandpa would look down smile at the person I have become. Throughout the years I have learned a lot and progressed as a fisherman. He always said to be truly happy, you need to do something you enjoy and I find that to be more true each day. Being on the water, teaching others skills & techniques, and sharing new experiences are all part of what makes my job enjoyable.
I met Jonathan at the beginning of 2011. We started fishing Guntersville together and instantly became friends. I kept the idea of guiding in the back of my head and never really said much about it. Once duck season arrived in the fall, we found a definite possibility for a business expansion. Business continued to grow throughout 2012. We hosted several waterfowl trips that fall to test the waters and found those trips to be very rewarding and successful. BassWhacker Guide Service grew by leaps and bounds during the 2013 year and the need to hire another full-time guide became apparent. I made the decision to complete my U.S. Coast Guard Captains License requirements (necessary for legal operation of any charter vessel) in November. We were blessed with a very successful duck season and between repeat and first-time clients we filled up every day of the season in a hurry.
This will be my first spring guiding fishing trips full-time and I couldn't be more excited. I will be working on Chickamauga and Guntersville lakes. I spend many hours on both throughout the year. I would have to say my strongest skills are in deep water off-shore fishing and electronics instruction. Many people are intimidated by the new high-end graphs on their boat and aren't using their new investment to its full potential. I can help with that. I run both Humminbird and Lowrance units and am very familiar with both brands. I also offer experienced installation services for about any marine application you can think of.
I spend many hours and off days on the water patterning fish and refining techniques to help make your trip as successful as possible. The best part of my job is seeing a smile on a clients face. Whether it's a young person with their first fish, or an experienced tournament veteran who just caught his biggest bass ever, it never gets old.
In my boat, you may come as a client, but I want you to leave as a friend…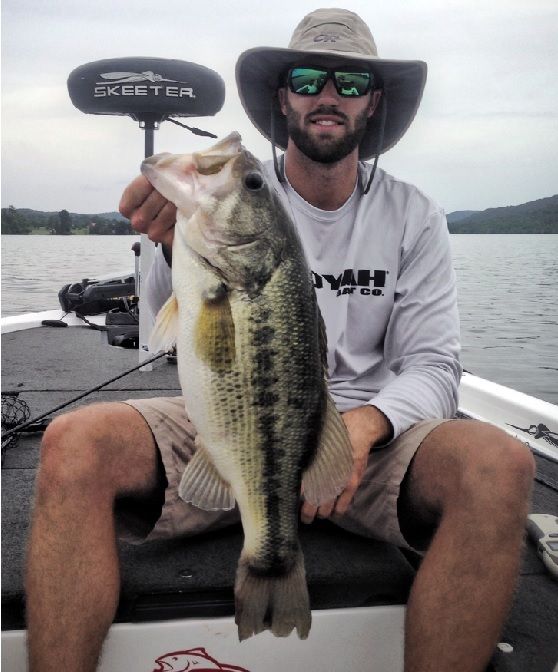 I grew up fishing with my dad and grandpa and have always loved the challenge of figuring out the clues as to what, when, where, and how they would bite that day. I am also an avid waterfowl hunter and love the thrill of watching the first group of the morning land in the decoys.
I live in Chattanooga, TN and have known Cody for a while. We have been friends since high school and grew up hunting and fishing together. Several years ago he introduced me to Jonathan and we instantly became friends. I started guiding fishing trips with them in the spring of 2014 and also waterfowl hunts that winter.
I have a lot of experience on both Guntersville and Chickamauga. I can do trips on either. I am very knowledgeable on both lakes and will do my best to make our trip successful no matter the conditions. My strength is fishing for post spawn bass offshore out on the ledges. I thoroughly enjoy taking clients out and teaching them how to use their electronics. These days it's almost impossible to be successful without them. I am familiar with both Lowrance and Humminbird brands, and can show you everything you need to know to get the most out of your unit. Whether you want to just catch as many fish as possible, or you want a thorough electronics instruction, I can tailor a trip that suits your specific needs.
I spend many hours out on the water to ensure I stay on top of what the fish are doing. I want you to have best experience as possible, and my goal at the end of each day is to ensure that you want to come back!